If you're working on letter N for your preschooler's letter of the week program then you'll love today's free letter N printable. It's a set of letter N free printable do a dot pages including uppercase, lowercase, color, b&w, and versions with and without handwriting practice. This letter N do a dot printable features N is for Nose!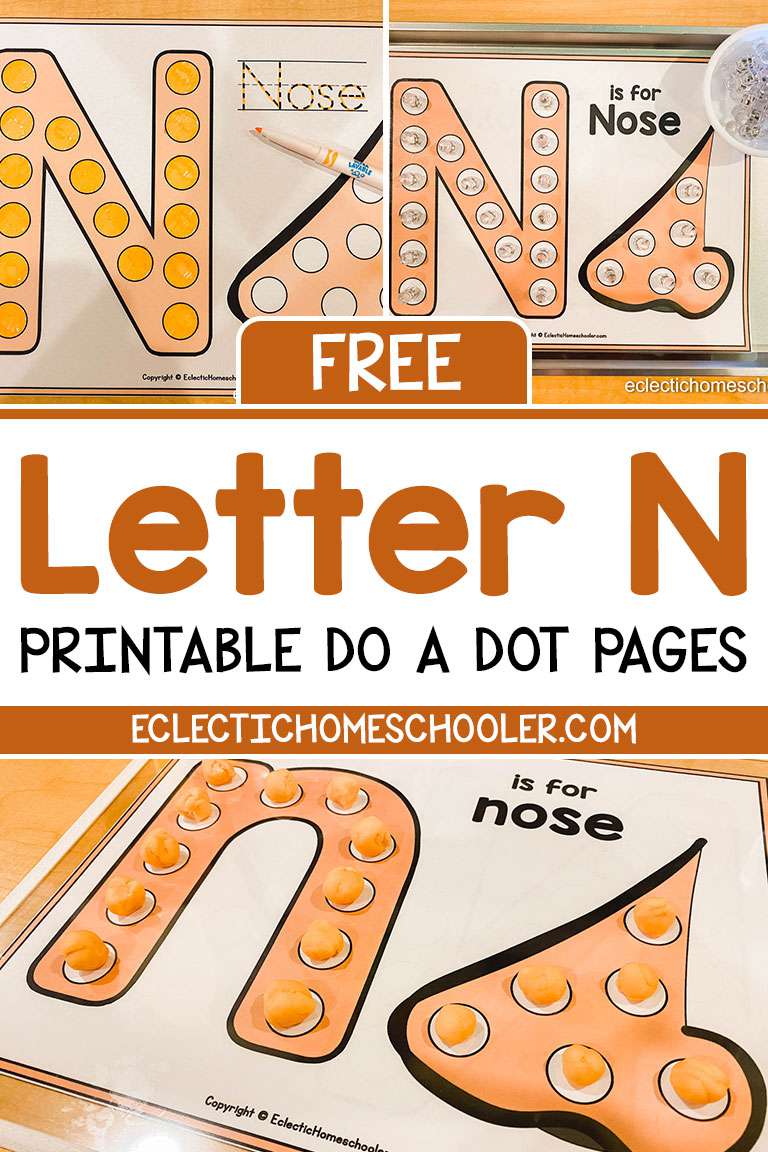 Letter N Do a Dot Printable Pages
Do a dot pages are so fun to do with your preschooler for your letter of the week program. They incorporate so many things that help to teach your child as they are learning about the letter for the week. While they do their letter N printable for the week they'll practice their fine motor skills, one-to-one correspondence, and more!
And do a dot pages aren't just for do a dot markers! They can be used for so much more than that. But for today I'd like to highlight four different ways that you can use this letter N do a dot printable with your toddler or preschooler. Then you can download the letter N free printable do a dot pages at the bottom of this post.
Letter N Printable With Markers
The first way you can use your letter N do a dot printable is with markers. This is super easy to setup and is a great way to help your preschooler practice coloring in the lines. If you're not comfortable with them using markers yet, then you could always have them use crayons or colored pencils (these triangular crayons are great for pre-writing and re-enforcing a pincher grasp).
If you print the letter N dot page out in black and white then they can have more to color, or you can print it out colored for more defined circles they need to stay within. Then if your child is ready for writing practice you can print out the version with handwriting practice too.
Letter N Printable With Play Dough
Another super fun way to use these letter N do a dot printable worksheets is with play dough. Pick a fun color to go with the page, stick the page into a dry erase pocket or laminate it, and have them practice making play dough balls for each circle. So much fun for them and great fine motor practice.
Letter N Printable With Glow in the Dark Paint
Kick your letter N dot pages up a notch with glow in the dark craft paint! This can be a really fun little experiment for your preschooler and it can help them to really see the shape of the letters when they're glowing. Just have them paint each dot with the glow in the dark paint using a q-tip. Encourage them to stay in the lines as best as possible even though it's hard to see the paint.
Now the key to getting this paint to actually glow is to make sure it soaks in lots of light before trying to turn off the lights. It's not going to glow immediately. Let it sit under your stove light or out in the sun for several hours before trying to see if it will glow.
Letter N Printable With Magnetic Push Pins
The last super awesome way that you can use these letter N printable dot pages is with magnetic push pins! These are so much fun to use with these because kids LOVE to use magnets. They're absolutely fascinated with them. So place your letter N do a dot page onto a cookie sheet and give them some push pin magnets. They come in all sorts of great colors but for my N is for Nose printable I decided to just use the clear ones.
Download Your Letter N Free Printable Do a Dot Pages
So now you're armed with some awesome and fun ideas for how to use these N is for Nose printable dot pages with your preschooler. There are so many other great ways that you can use these, but these are just a few. You just can't go wrong as long as your child is having fun and learning along the way. I hope you and your child enjoy them!
To grab your letter N do a dot pages just click the button below to download, print, and laminate them (if desired). Have fun!

If you're in the midst of your letter of the week program for letter N then also be sure to head over to my other letter N printables and resources that you can use alongside this dot printable.
Looking for more alphabet do a dot printables? You can view the previous letter M printable dot pages here, and the next letter O printable dot pages here.